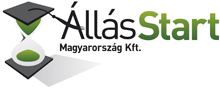 Front-End Developer
ÁllásStart Magyarország Kft.
Information about the position
Job description, responsibilities and duties
• Be involved in full stack development, participating in all stages of the Software development life cycle
• Complete requirement definition
• Prepare web UI design
• Code and test web application frontend
• Participate in integration and system implementation
• Support the operation of running systems
Information about the selection process
• Work place: Esztergom, Position name: Front-End Developer
Company on whose behalf the position is being filled
Automotive industry, manufacture of transport equipment
Automotive industry.
Requirements for the employee
Candidates with education suit the position
University education (Bachelor's degree)
University education (Master's degree)
Language skills
English - Intermediate (B1)
Personality requirements and skills
Conditions for getting the job
• Enthusiastic to learn and/or refine skills in OpenEdge and JAVA
• Able to takeover legacy systems to accomplish changes
• Agile to requests for continuous improvements
• Collaborating with colleagues from other business areas
• Willing to present and teach new ideas to help evolve both systems and colleagues

Advantage for getting the job
• Professional knowledge of HTML5, CSS, JavaScript, experience of jQuery and any front-end framework (Bootstrap, Angular, Vue.js, React) is welcome
• Technical University/College specialized in IT (degree or at least 2 years finished)
• Equal knowledge from previous work experience
• Intermediate level English (verbal and written)
Advertiser
Brief description of the company
ÁllásStart is the market-leading career book in Hungary.
Company address